Course Layout
Northern Rangsit Golf Club
No. of Holes: 18 Holes / Par 72
Total Yardage: 6,793 yards
Particularly designed with distinctive features to challenge every golfers' swing accuracy and shot making consistency, Northern Rangsit golf course places different hazards incorporating a balance of aesthetics and playability.
Start off with the front nine, golfers will be challenged by obstacles found on both side of the fairway. Stay straight and you will never be trapped might be a perfect way to put it, especially on the Ninth hole. Accuracy is key in playing well. Missing the fairway means that your ball will undoubtly land in the water or sand bunkers.
Save yourself plenty of golf balls for the traps found in the latter nine holes. The Eighteenth hole is the gem of this golf course in terms of beauty and difficulty. Surrounded by water, the putting green stands out amidst spectacular scenery. Stay focused while approaching your second shot as the watery hazards around this green island can intimidate less experienced golfers and trap professionals in its obstacles.
| | | | | | | | | | |
| --- | --- | --- | --- | --- | --- | --- | --- | --- | --- |
| Hole | 1 | 2 | 3 | 4 | 5 | 6 | 7 | 8 | 9 |
| Par | 4 | 5 | 4 | 3 | 4 | 5 | 3 | 4 | 4 |
| Blue | 364 | 566 | 397 | 186 | 361 | 588 | 164 | 410 | 402 |
| White | 345 | 533 | 378 | 159 | 337 | 578 | 142 | 383 | 380 |
| Red | 295 | 460 | 321 | 128 | 285 | 478 | 124 | 334 | 323 |
| | | | | | | | | | |
| --- | --- | --- | --- | --- | --- | --- | --- | --- | --- |
| Hole | 10 | 11 | 12 | 13 | 14 | 15 | 16 | 17 | 18 |
| Par | 5 | 3 | 4 | 4 | 4 | 3 | 5 | 4 | 4 |
| Blue | 574 | 157 | 362 | 409 | 378 | 184 | 565 | 387 | 339 |
| White | 540 | 131 | 332 | 383 | 349 | 161 | 537 | 363 | 312 |
| Red | 458 | 106 | 302 | 341 | 301 | 145 | 444 | 321 | 270 |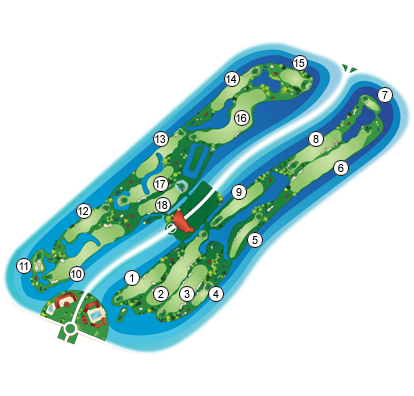 18 Holes
Par 72
6,793 yards